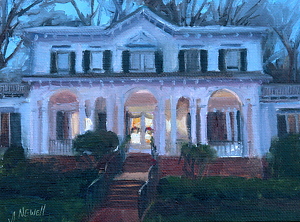 Christmas at the Mansion
8x6 oil
$175 free shipping in US during the month of December
Ever since I discovered this beautiful house, belonging to the Greenville's Women's Club I have wanted to go inside. I got the opportunity last week when I participated in a show there. It was lovely. I went one evening before the show and snapped a photo of the house right after sundown and did this painting from the photo.
Email me if you would like to purchase this painting.
Thanks for viewing my art.
Jacki