Three years ago today, we pulled up very deep roots in Nebraska and moved to South Carolina. Wow, how time has flown!! I love it here, but it is definitely hard to be so far from my son and his new wife, and my daughter, her husband and four beautiful little ones.
One of the many things I enjoy here, is the ability to walk every morning without the bitter cold winds and ice. It gets cold here, sometimes in the low twenties but it always seems to warm up at least to the 50's, sometimes 70's. I have been able to get downtown, often this winter and take lots of photos and I've painted outdoors there twice in the past month. The paintings that I have done lately have been downtown scenes with winter light which is quite different from the summer lighting. Even on a rather warm day, it still looks like winter because the sun is lower in the sky, even at noon, and with the bare trees that line Main Street, the lack of shade makes a whole new look. I like to go there late afternoon, so the buildings make some shadows and the sky is bright and shimmering. I have taken quite a few photos of this time of day. Here's a painting that I just finished today in that type of lighting.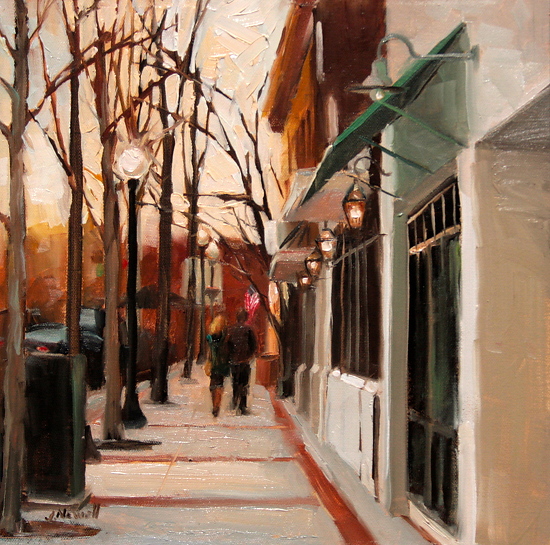 A Walk After Work
12x12 Oil
$350 unframed
Thank you for viewing my art.
Jacki
Jacki.newell@gmail.com