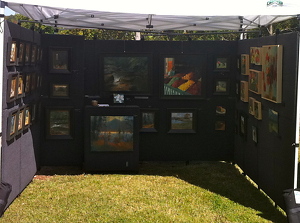 Whew, the FENCE Wine and Art show that I have been working so hard for has come and gone. We had gorgeous weather, not any of the wind that was forcasted, thank you, Lord! Dave and I were very pleased with how nice the propanels went up, even on unlevel ground. The venue was beautiful, I was wishing i would have brought my paint box because I had such a lovely view of mountains from my tent. Sad thing, though, was that the turnout was very light. There was just an occasional trickle of people all day that made their way to my tent. The ones that did stop in were very complimentary. I worked so hard on framing all those small paintings and it took me alot longer to hang my work compared to everyone else because of all the little ones, but I felt that the small paintings got alot of attention from viewers. At the very end of the day, just before tearing down, a couple and then, a few minutes later, a young woman came back to my tent and I ended up selling a total of 5 small paintings. I was thrilled!!!! Definitely felt they were worth all the time I spent framing and hanging them.
It was also my first show to use my new credit card devise from Square Up. It didn't work. I didn't do a trial run on it at home yet, but I'm thinking because we were out in rural mountain foothills, the cell phone reception may have been bad. I'm not giving up on it, because it's such an awesome way for people to pay. I'll report on that when I try it out soon.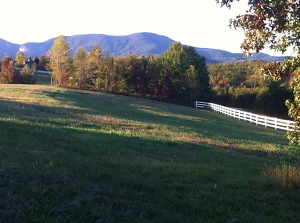 Thanks for viewing my blog. jacki.newell@gmail.com
My view from the tent.