I painted this from a photo that I shot six years ago, when I was taking a morning walk with my sister, in Nice, France. We were staying at the home of our lifelong friend and fellow artist, Valerie Ghoussaini. While she was having french lessons, my sister and I would walk about a mile to the beautiful seaside village of VillaFrance and have coffee for her, tea for me. Before we headed back to to the house, we would stop at this little market for fruit to take back with us. Great memories.
I have done this scene in pastel and have always wanted to paint it in oils. Now I am working on a larger one of ths same scene. I am having so much trouble with the figure as I try to do it in a larger size. Painting small is much easier for me.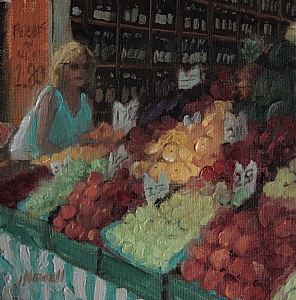 Fruit and Wine Market
6"x6" oil on panel
$200.
Contact me at jacki.newell@gmail.com if you are interested in purchasing this or any other painting.
Sign up for my monthly email newsletter in the menu on the left hand sign of this page.
Thanks for viewing my art.
jacki