Here's the rest of the story of why last week was so great- the gallery that has my small downtown paintings sold 7 of them!!!! They hadn't even gotten them up on the wall and someone who had read in my January newsletter that I now have my work at Liz Daly Design Gallery came down to see them and bought 7 of them! Wow! I got the phone call about the sale while I was at the hospital visiting my new grandson. Right after I sent out the newsletter I was feeling sorry for myself and whining to my friend that I felt like I wasted a bunch of time putting it together, but was committed to doing one each month. When I found out that the reason this person had come to the gallery to see my work was because she had read about it in my newsletter, I realized that maybe that time I spent at the computer was time well spent!! I must say that Clint Watson, Leslie Saeta and Dreama were right about newsletters!!
Here are two that sold this week-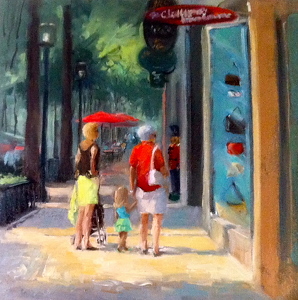 "Love that Dress"
12x12 oil
SOLD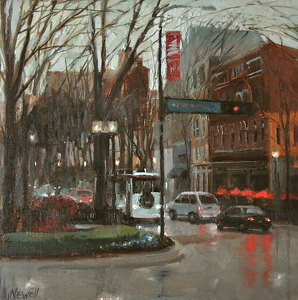 "Main Street in December"
12x12 oil
SOLD
Thank you for viewing my blog. If you would like to sign up to receive my newsletter, click here. Your name will be in the monthly drawing for a free painting.
jacki