I finished a couple of 12 x12 paintings this weekend but didn't get them photographed, so I am posting this little one that I did earlier in January. I don't know what kind of stems these are. It's from a bush that may be a wild rose and these may be the rose hips. Not sure, but I enjoy the bush in the winter with those berry things.
Yesterday I purchased 6 rather large, two of them very large (36x36) stretched canvases. So now I have to work big. I thought maybe if I bought a bunch of them, I wouldn't feel so hesitant about painting on a large canvas because if I don't like the painting, I have plenty of blank ones that I can try something else on. I want to do some large downtown paintings for the Artisphere Art Fest coming up in May and am having a hard time deciding what I want to try larger from the small ones I have done. I've got to make some decisions and get started. It won't be this week because I will be in Chattanooga for 4 days. While my husband is working I plan to spend time in the hotel room planning out these large pieces.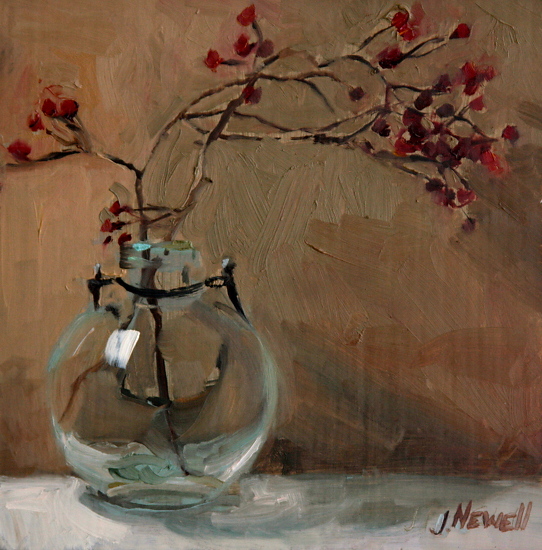 Winter Arrangement
6x6 oil unframed
$150 with free shipping
Thanks for viewing my art.
Email me if you are interested in purchasing this or any of my paintings or have any questions.
jacki